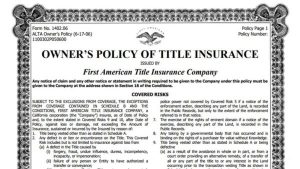 Title insurance protects a policyholder from any events that occurred before the issuance of the policy. The purpose of title insurance is to protect the policyholder against any losses that may arise from defects or liens associated with title.
When buying title insurance, the title insurance company researches the history of title through public records relating to the property and trace the chain of title in an effort to determine whether there are any existing liens, encumbrances or other claims associated with the property. Once the insurance company has explored all relevant public records, they issue a title commitment for issuing a policy. A title commitment is a contractual obligation for a title insurance company to issue a policy for a particular property. It includes a statement of the terms and conditions under which the insurance company is willing to insure the property's title and lists any exclusions that the company deems uninsurable, plus identifies any liens on property that have not been paid off.
There are several types of title insurance policies:
1. ALTA Owner's Policy protects the buyer and in Arizona is paid for by the seller (as called for in the AZ purchase contract). This non-transferable policy protects the insured against any claim of title that may arise from something that is a matter of record, plus protects against hidden risks like forgery in the chain of title, fraud, lack of capacity by a party to a past transaction involving title or improper delivery of the deed. This type of policy is usually only available if the legal description of the property is a lot/neighborhood description. A property with a "metes & bounds" description may not be eligible to obtain this type of policy.
2. ALTA Lender's Policy protects the lender on title and their claim against the property. This policy insures against matters of record and hidden hazards, plus against unrecorded liens and things that can be ascertained by a physical inspection of the property (such as encroachments). The Arizona purchase contract stipulates that this policy is paid for by the buyer and stays in force until the loan is paid off.
3. Standard Loan Policy protects the lender and is paid for by the buyer. This policy only insures against matters of record and hidden risks.
No title insurance policy will protect against government acts or regulations such as zoning and no policy will protect against every claim. There are always exceptions listed in the title insurer's Commitment For Title Insurance, as Schedule B items and should be reviewed by buyer very carefully in a transaction. Lenders consider title insurance an ideal form of evidence of title because title insurance companies research public records extensively before taking on the responsibilities created when they issue title insurance.