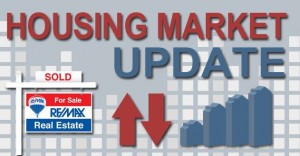 1. How fast are homes selling? Average number of days on market is 58 (up 26 days from last year)
2. How many homes are for sale? We currently have 13,540 properties for sale (down 30.5% from last year)
3. What is the average sales price? Homes across the city are selling for $558,653 (up 2.1% from last year)
July's supply was down 39.3% from July 2022 (with 7,033 homes listed for sale last month) and July's demand was down 4.4% from July 2022 (with 5,919 homes sold last month). Average home values are up 2% in the last year and we have 1.8 months of inventory, down from 2.96 months at this time last year. Under 2 months supply is a seller's market, 2 to 4 months is a balanced market, and over 4 months is a buyer's market.
What's going on?
Comparisons with this time last year continue to get easier, as a year ago the market was deteriorating quickly when institutional investors and iBuyers (like Zillow) pulled out of the market. Now we have a re-sale market which is plodding along slowly with poor demand and weak supply. This large drop in supply is unprecedented and is having a far bigger impact than the affordability issues caused by high interest rates. At the time of writing, a 30-year fixed mortgage rate is up to 7.25% so affording to buy a home just got a little harder. Selling an existing home with a much lower mortgage looks even less attractive, so new listings are arriving in very low numbers, as they have done all year.
Some badly informed observers still think there is a bubble bursting situation ahead, but they completely misunderstand the situation. For prices to fall, we have to have an excess of supply compared to demand. Even though demand is very weak, supply actually got 2.6% smaller over the last month. There is very low loan delinquency in residential real estate lending right now, so it takes great imagination to believe that foreclosures are going to have any significant effect on supply in the foreseeable future.
While consumers are reporting confidence with their personal financial situations, it's unlikely we'll see housing sentiment catch up to other broader economic confidence measures until there is meaningful improvement in home purchase affordability. In July, a Fannie Mae survey showed a significant majority of consumers indicated that their jobs are stable and that their incomes are the same or better than they were twelve months ago. However, homebuying sentiment once again matched its all-time low, with only 18% believing it's a good time to buy a home. Unsurprisingly, consumers continue to attribute the challenging conditions to high home prices and unfavorable mortgage rates.
In conclusion: Even in markets where there's a limited number of homes for sale, you still have transactions. This is typically driven by the three Ds: death, divorce and discretionary (lifestyle choice). Many of today's homeowners are disincentivized to sell because they're locked in at rates substantially lower than today's prevailing rate, causing listings to plummet. At the exact same time, rising prices and record high interest rates have dampened affordability and demand.
Data from ARMLS® COPYRIGHT 2023.