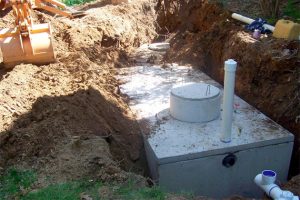 A septic system is used to treat wastewater from a home whenever property is not connected to a sewer line. Septic tanks vary in size (often will hold about 1500 gallons of wastewater), are typically burried 18 to 24 inches below surface, are clearly marked with an identifying pole and should not be driven over or parked on. Septic systems in Arizona also are surrounded by either a leach field or sit on top of a leach pit, to further allow for effluence from the septic tank.
In Arizona, the On-Site Wastewater Treatment Facility Addendum is used when property includes a septic (wastewater) system. It requires seller to provide buyer with copies of all documents pertaining to the septic tank that are in seller's possession within 5 days of contract acceptance, to have septic system inspected at seller's expense within 6 months prior to close of escrow (but no later than 3 days prior to close of escrow) and to deliver completed report of septic inspection to buyer upon receipt. It also requires seller to pay for repairs to correct physical or operational deficiencies of the septic system, up to 1% of the property purchase price (or another agreed upon amount during purchase contract negotiation) and provides remedies if repair cost exceeds amount agreed upon in contract. If seller required septic repair costs exceed previously agreed upon amount, buyer may cancel contract or agree in writing to pay the additional repair cost.
Because the standard Arizona purchase contract language calls for seller to have septic system inspected at their own expense and any repairs up to 1% of purchase price made also to be made at seller's expense, it is vital that sellers with septic tanks understand the costs relating to inspection and possible required repairs of this system to avoid problems during escrow.
Buyer responsibilty includes delivering to escrow company a complete Arizona Department of Environmental Quality (ADEQ) Notice of Transfer of Ownership of an On-Site Wastewater Treatment Facility prior to close of escrow, which instructs escrow company to file the notice and filing fee and indicates who will be paying filing fee.