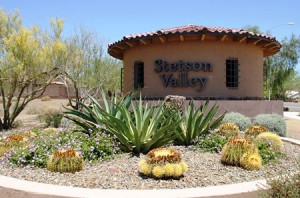 Looking to buy a home in Stetson Valley? Browse the most up to date listings for all homes for sale in Stetson Valley. This home search is updated daily for the most current information.
What is your current Stetson Valley home value estimate? Visit Phoenix Property Value for your 20+ page personalized color report delivered to your email within 24 hours with no obligation or cost!
Stetson Valley is a planned community within North Phoenix, tucked into the surrounding mountains located north of Happy Valley Rd between 51st and 55th Avenues. With some builder phases still under construction, the completed Stetson Valley community will include over 2,000 family homes along with a condo subdivision called Inspiration at Stetson Valley and a townhome subdivision called Harmony at Stetson Valley.
This picturesque mountainside community of Stetson Valley is just 20 minutes from downtown Phoenix and Scottsdale, along with golf, shopping, schools and medical facilities all very nearby. Stetson Valley also boasts natural area open spaces with large parks, walking paths and greenbelts – giving it an upscale, family friendly, spacious feeling.
As a close neighbor to the lovely homes in Stetson Valley, you have just found a very qualified 85083 realtor to best represent you, whether to buy or sell in Stetson Valley. Working with an excellent Steston Valley realtor doesn't cost any more, so don't hesitate to contact me to chat about properties in Stetson Valley.
Check out a Phoenix home for sale in Stetson Valley by Andrew Robb.