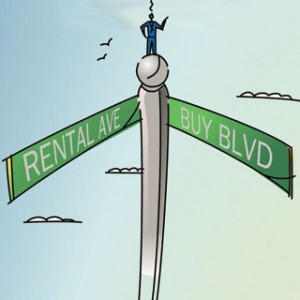 During the past 10 years, throughout most of the country, the majority of people who were renting a home have been better served financially that ones who purchased real property. And it's never been more true than for Phoenix. The idea of renting may not have held much emotional appeal, especially for those who believed that owning a house was also a better long-term prospect. But leasing a rental property would have most likely saved you thousands of dollars a year.
For the real estate markets that have collapsed by as much as 40% in many parts of the US, property prices have fallen so much from their highs of 2006 and 2007 that buying a home appears to be a bargain, based on a New York Times study of house prices and rents in 54 metropolitan areas. In Phoenix, home prices relative to market rental rates are as low as ever.
The idea behind this research is based on comparing the costs of buying a property versus renting a comparable home. Please note that this kind of survey can obviously not predict what the best decision will be for your situation. But it does show whether a buyer will need a large appreciation in future home appraisals to cover all the different costs of home ownership for items such as the required down payment, buyer closing costs, annual property taxes, loan origination fees, mortgage insurance premiums, property maintenance repairs and HOA or condo fees.
A great way to determine what is happening in your desired neighborhood is to consider what the real estate experts refer to as the rent ratio. This is simply the total purchase price of a home divided by the annual cost of renting a similar one in the same area. The magic number 20 provides us with the litmus test rule. When you make the described calculation, keep in mind that a rent ratio above 20 suggests you should at least consider renting, especially if you plan to move within the next 5 years. When the rent ratio is below 20, the case for buying a house becomes more convincing.
Obviously owning a home brings other benefits that are not only financial. Pride of home ownership also offers stability, comfort and freedom. A family that is reasonably confident they are unlikely to move for 10 years may well be very wise to purchase a home at today's relatively attractive prices.