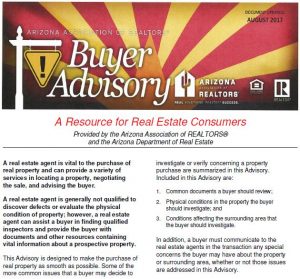 The Arizona Buyer's Advisory was created to assist home buyers in providing a research guide for conducting due diligence of items of importance. It encourages buyers to obtain important details of a property during the inspection period and contains links to assist buyers in finding this information. It also reminds buyers that real estate agents are not qualified home inspectors but that a realtor can assist a buyer in locating professionals for whatever areas of concern they may have.
The major sections of the Arizona Buyer Advisory provide guidance on the following areas:
– Documents a buyer should review, such as purchase contract, seller's property disclosure statement, HOA disclosures and CC&Rs, loan information, home warranty policy, lead based paint disclosure, professional home inspection report, county tax records, termite report, etc.
– Physical conditions in the property a buyer should investigate, such as repairs and remodeling, square footage, roof, pool and spa, septic system, sewer connection, well and water supply, soil condition, previous fire or flood, pests and insects, deaths and felonies, health concerns, lot boundary, insurance claims history, etc.
– Conditions affecting the area surrounding the property a buyer should investigate, such as environmental concerns, sex offenders, proximity to airports, traffic conditions, crime statistics, zoning and planning, schools, etc.
– Other methods of getting information about the property, such as driving the neighborhood, talking to neighbors, investigating surroundings with Google Earth, etc.
– Resources such as information about Arizona, Market Conditions Advisory, fair housing law, disability law, wire fraud, etc.
The Arizona Buyer Advisory is a lengthy and constantly updated document, as information and links are updated at any time. If you would like the most recent edition of the Arizona Buyer Advisory, please email me.