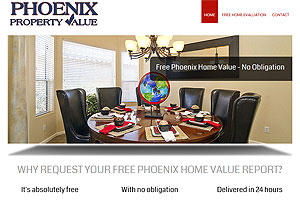 Welcome to the April edition of the Phoenix Real Estate Market Report. We observed a 12% decrease in active listings (homes for sale) from this time last year, coupled with a matching 12% drop in demand, although prices are still rising. The monthly average sales $/SQFT is up 2.2% in the last 30 days and the monthly average pending $/SQFT is up 3.2% over last month, indicating that closing prices are most likely to continue moving up in the coming months. Traditional listings (homeowners selling with equity) now make up 72% of all homes for sale, compared with only 47% this time last year. We are seeing homes selling for more than asking price in El Mirage 85335, Avondale 85323 and Peoria 85345.
In the west valley, the average current listing price for a home is $232,898 – up more than $7,500 from the previous month. If you are curious what your Phoenix home is worth today, please request my FREE Phoenix Property Value 20-page customized report to find out.
Foreclosure notices are down about 60% from last year and trustee deeds (issued for homes that successfully sell at foreclosure auction) are down over 50%. As of April 1st, there were only 661 active distressed listings (short sales or foreclosures) that were not already under contract, down 40% from the prior year. Short sales have lost market share among pending listings (under contract) – down 38% – and lenders are much more selective about which offers they are accepting for the short sale to close. As a result, the average short sale pricing $/SQFT has risen almost 15% in the last 12 months and the majority of approved short sales are now closing above list price.
In summary, the Phoenix real estate market still continues to serve up great news for home values – though it does remain a challenge for many buyers, as good value and condition properties are not lasting long on the market. Creative contract writing (higher earnest money, shorter inspection period, etc) continues to help buyers win the day with sellers. Despite a more competitive market than a year or two ago, I am finding rental properties for my investor clients in the 7-8% net cash flow range (or about 14% cash on cash return for those using 20% down financing). Contact me any time if you would like to know what is happening in your neighborhood, or if you have any real estate or financing questions.
Data contained in this Phoenix real estate report is obtained from the Arizona MLS and the Cromford Report.