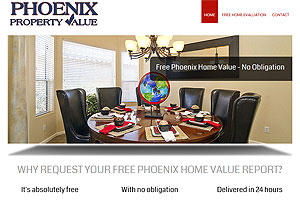 The media is reporting a big rebound in home prices, especially here in Phoenix where we have enjoyed a bounce of more than 50% from our lows in mid-2011. As a Realtor, everywhere I go people now ask me "So how is the market?" – to which I respond: "It depends if you are buying, selling or investing". It turns out that most who ask this of me are homeowners curious about the current value of their home, so let's focus on Phoenix property values from a potential seller's perspective.
To streamline the process, I have created a special site for you to obtain a comprehensive market evaluation report. This FREE report is manually prepared within 24 hours of each request and contains a wealth of relevant data about your own property, recent comparable sales activity nearby, your neighborhood demographics and of course a current price estimate for your Phoenix home, along with a range of property value and confidence indicator.
With home prices way up in recent years, are you curious to know more about your Phoenix property value? Are you ready to get your personalized FREE 20-page color report loaded with important details you need to analyze your home's potential current market value? You may have equity in your home again!
Why spend up to $450 for a property appraisal? There is no cost or obligation when using this valuable service, so act now to get your customized Phoenix property value report emailed to you within 24 hours. You will also receive a special bonus report from Andrew Robb with your personalized home value estimate, entitled "How To Sell Your Home Fast For Top Dollar".