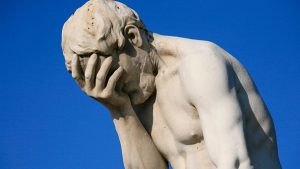 If you are planning to sell your home, but secretly want to make selling it difficult, please make sure you:
– have such a restrictive schedule that showings can only be Tue mornings
– close all the blinds and keep all the lights off so it's nice and dark
– don't pick up after your pets outside so buyers have to dodge land mines
– have your house looking like you just threw a bachelor party last night
– leave your barking dogs caged up at home for all showings
– quietly sit in back yard anxiously waiting for buyer to leave
– stay inside your home sitting on the couch watching TV during each showing
– put a handwritten sign on a random bedroom door saying "Do Not Enter"
– follow buyers and agents all around your home explaining every detail
– confront buyers and agents directly for honest feedback when they try to leave
You may be thinking "I would never be that foolish" but I raise each of these real world scenarios because I have encountered them (numerous times each) over the many years I have been practicing real estate.
It's mind-boggling to think people believe nothing is wrong with some or all of the above actions. It's even scarier that their agents may not have stated the obvious to them, when trying to make it easy to sell their home.
Homes don't sell for at least 1 of 3 reasons (and sometimes it's all 3): it's overpriced, it's poorly marketed, it's hard to show. The first two are obvious, the third not so much. By hard to show, I mean a combination of any or all of the above, whereby the home does not present well or a buyer cannot be comfortable while viewing the home.
Please keep this in mind to make selling your Phoenix home a pleasant experience!